RECENT AUCTION HIGHLIGHTS FROM BANTY RED TOBACCO & ALE, CO.
*These are some of our personal favorites over the past year or so and the final hammer price at public auction. While not necessarily the most expensive offerings--they turned out gorgeous. We can never fully express our gratitude to each and every collector. The interest from collectors keeps Phil enthused and creating into the wee hours of every morning. A sincerest "Thank You" to all!*
'52 Baseball #300 BEDFORD
Beautiful skin tones and warm, radiant hues with razor-sharp detail. A truly magnificent low-population offering.
SOLD 229.50 USD, December 2018
Lost Fifty-Fours STAN MUSIAL
From our popular "Lost In The 50's" set, the '54 series contains 18 cards. Perhaps the most popular is this pasteboard of Stan Musial. The card has explosive color and exceptional detail.
SOLD FOR 430.35 USD, February 2018
'52 Baseball #223 MICKEY MANTLE HI#
Card is highlighted with Mick's "Rookie Era" facsimile autograph and soft pastel-type colors lightly brushed over a black and white image from the spring of 1952. A spectacular offering.
SOLD FOR 305.00 USD, December 2017
1952 Series #255
DON DRYSDALE
This high-number won't list again for quite awhile. One of our favorite cards ever offered. An action shot of a baby Don's whip-like arm in old Ebbets Field. Gently hand colored and filtered, then lightly 'dodged' to highlight his features, this is a true wonder card.
SOLD FOR 236.03 USD, December 2017
'52 Baseball #296 Jackie Robinson HI#
One of our favorites of all time. No detail was spared in creating this gem.
SOLD 320.00 USD, December 2018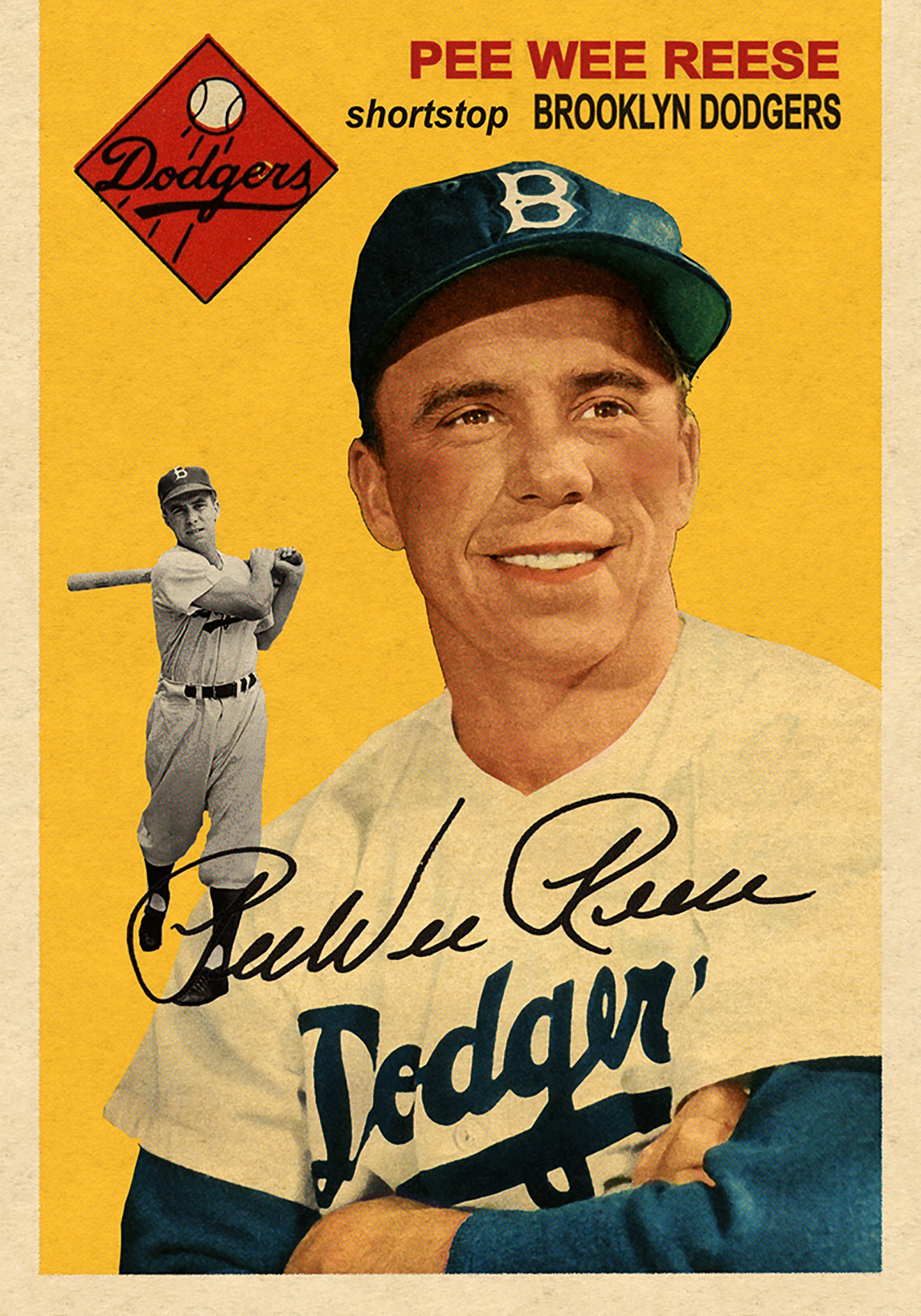 Lost Fifty-Fours
PEE WEE REESE
"Lost In The Fifties" is a fun set of cards that includes 1953 & 1954 Topps-inspired baseball stylings with players that--for one reason or another--did not appear in the set that year. This Pee Wee was a blast to make and turned out gorgeous.
SOLD FOR 211.40 USD, December 2017
1951 Series #86
GRANNY HAMNER
Popular Phils infielder and '51 Series low population with beautiful Shibe Park backdrop. One of 2017's prettiest cards.
SOLD FOR 125.35 USD, December 2017
52 Baseball #275
ROY CAMPANELLA HI#
I just love my Campanella cards. This image was from the summer of '51. Great care was taken to match Roy's soft skin tone and dark eyebrows.
SOLD FOR 200.50 USD, December 2017
CAPITAL OF BASEBALL SERIES
One of Banty Red's first offerings, the Capital Of Baseball set contains 34 cards featuring the best of New York's 3 boroughs between 1950-1956. This beautiful Roy Campanella card, complete with Ebbetts Field's view of Bedford Avenue in Brooklyn is one of the sets' most popular singles.
SOLD FOR 368.50 USD, Summer 2016
BANTY BULLS 1 of 5 B. GRIMES
Individually hand-numbered to 5 prints each, the Grimes is a real stunner. Fantastic clarity, the card is triple filtered. It derives it's name from the Durham Tobacco Company contest of hitting a bull on the field.
SOLD FOR 112.04 USD, December 2017
'52 Baseball #236
MINNIE MINOSO
Underrated Superstar could do it all. Meticulous colorization with special attention to Minoso's skin-tone. One of my favorite players of all time.
SOLD FOR 111.50 USD, December 2017
'52 Baseball #241
RICH ASHBURN HI#
Stunning portrait of the Phillies centerfielder. Beautifully hand-colored.
SOLD FOR 142.50 USD, December 2107